85.37% of very satisfied clients
Dates of your stay

Best price with us : 80,00 €
Best price elsewhere : 95,00 €
Savings : 15€
26 rooms including 5 for family
In your hotel in Sarlat, the 26 rooms of the hotel offer a cozy and warm atmosphere. All different and with integrated comfort, you will have the impression of being at a provincial friend's house. By booking directly on this site, you benefit from the best rate guaranteed. All rooms have free Wi-Fi and LED flat screens. The rooms are not air conditioned. Most rooms are accessible by stairs. Part of the hotel has an elevator. The hotel also has a disabled room. In the morning, you will enjoy a varied breakfast with fresh and local products. What better way to start your day exploring the Dordogne than with a good breakfast?
Mini rooms
Surface of about 8 m2
Occupancy 1 or 2 people (recommended for 1 person). The mini rooms are the small rooms of the hotel. They offer all the comfort in a small cocoon space. They are ideal for overnight stops in Sarlat. They are equipped with a 140 bed, an 80 cm LED screen, a private bathroom, a telephone and free wifi connection.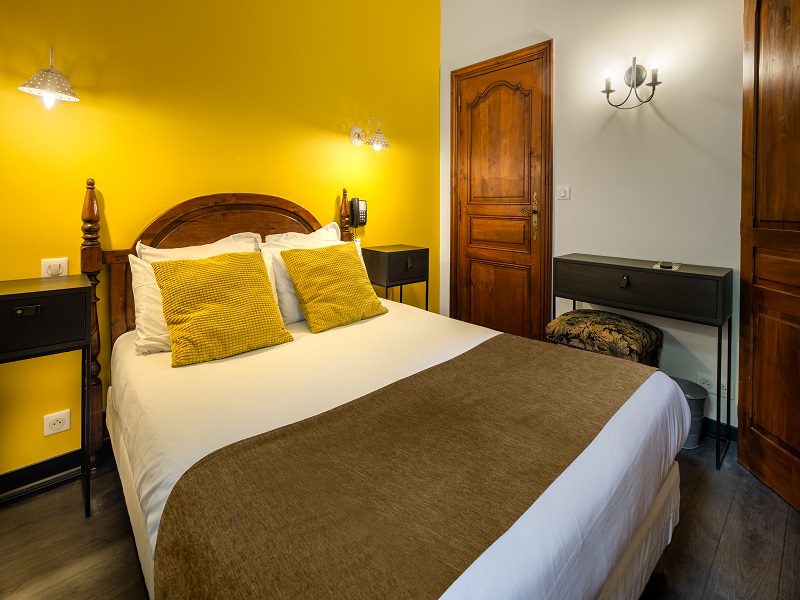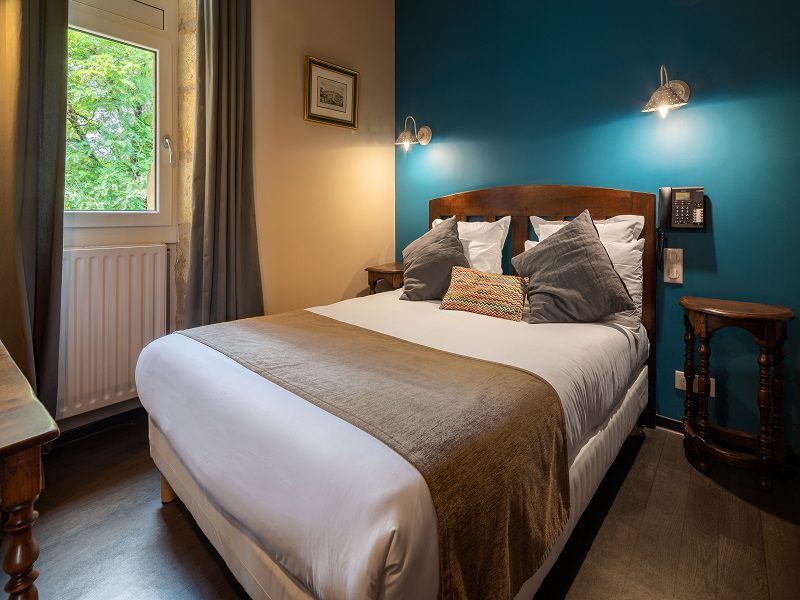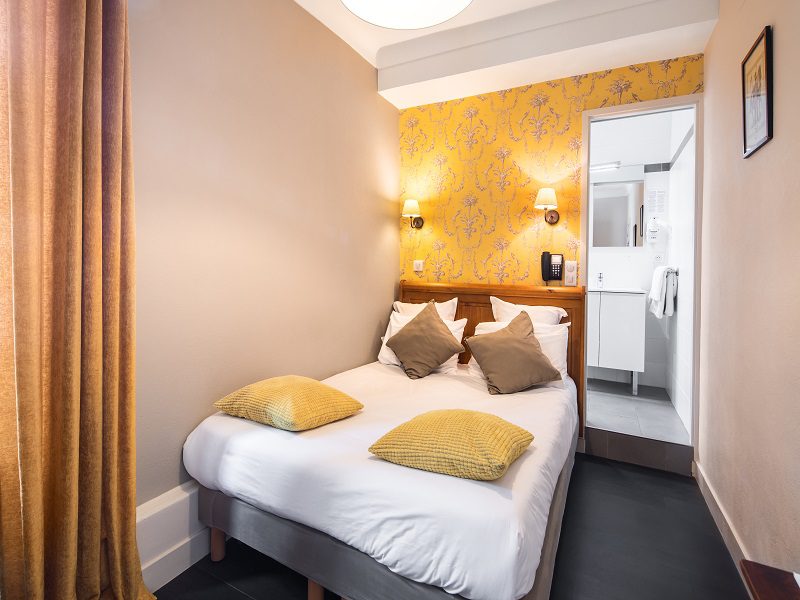 Standard Rooms
Surface of 10 to 15 m2
Occupancy 1 or 2 people. The standard rooms are all different with antique furniture and neat decoration. Alone or as a couple, the Standard rooms will be perfect for your stopover in Sarlat. They are equipped with a 140 cm bed for the doubles and 2 90 cm beds for the twins, an 80 cm LED screen, a private bathroom, a telephone and free wifi connection.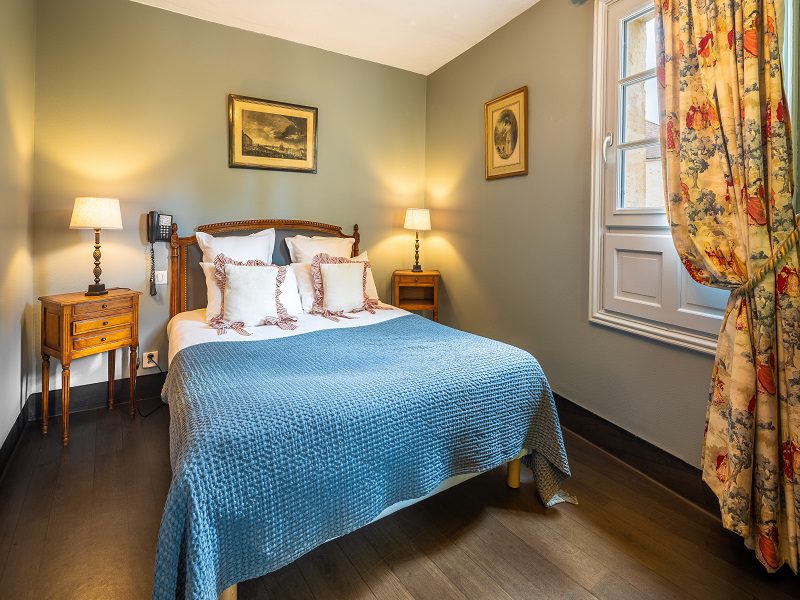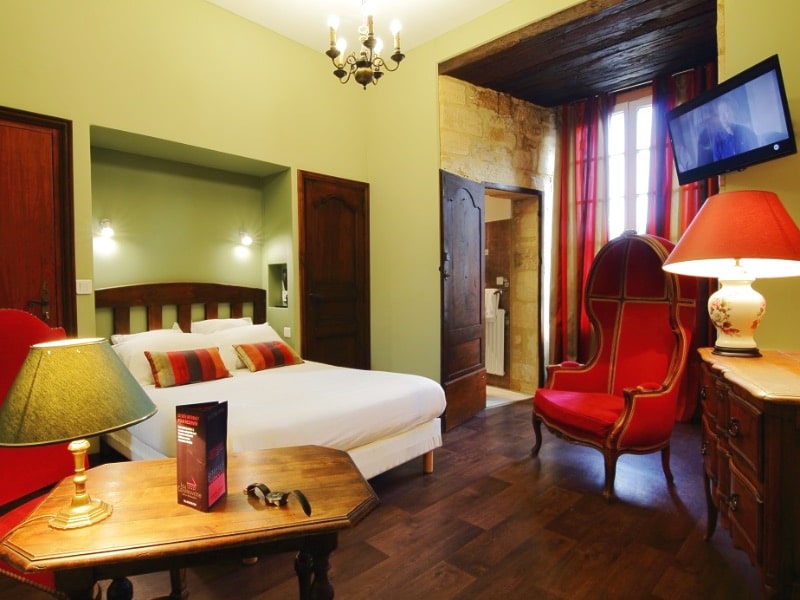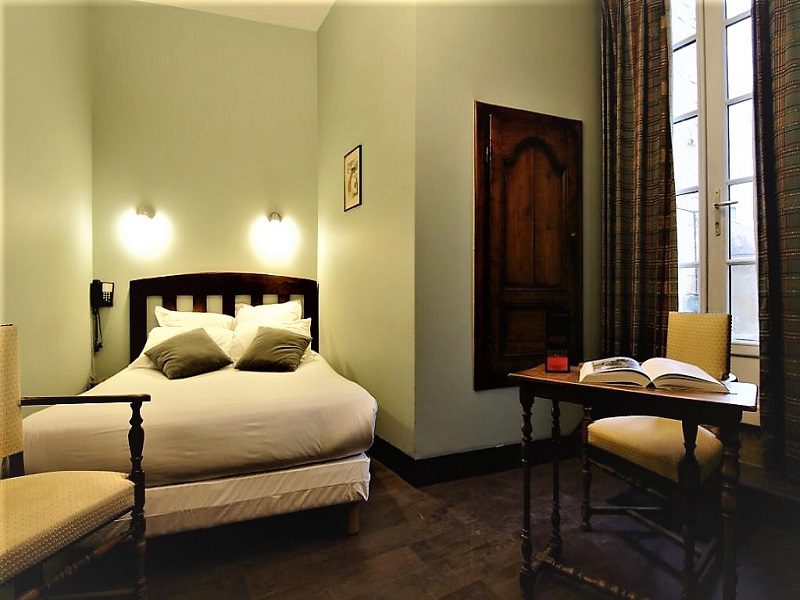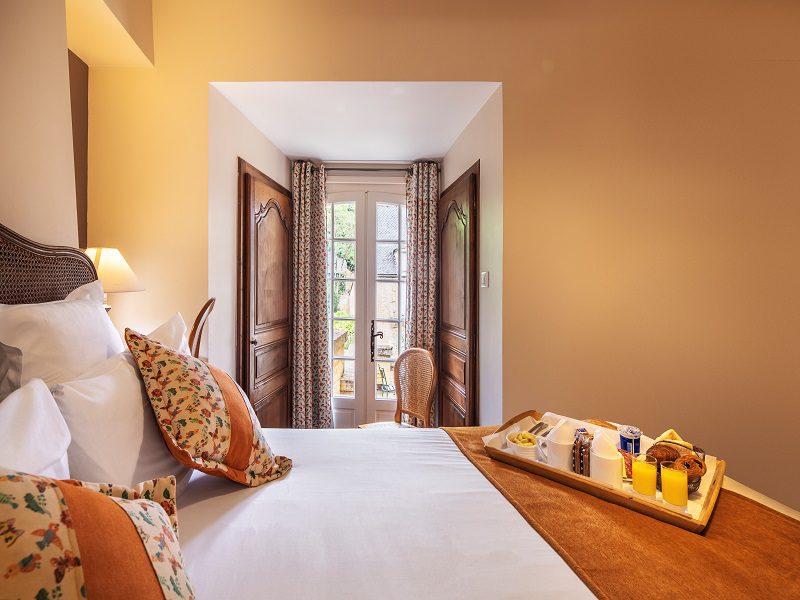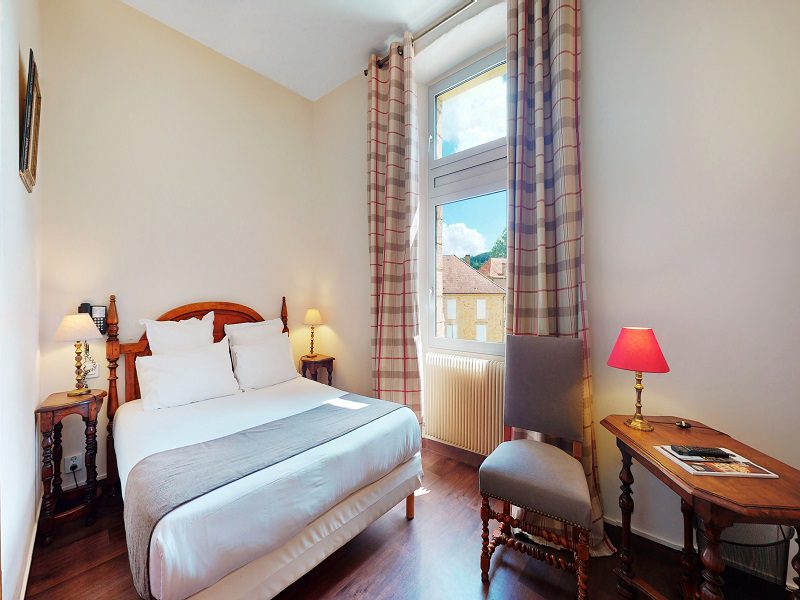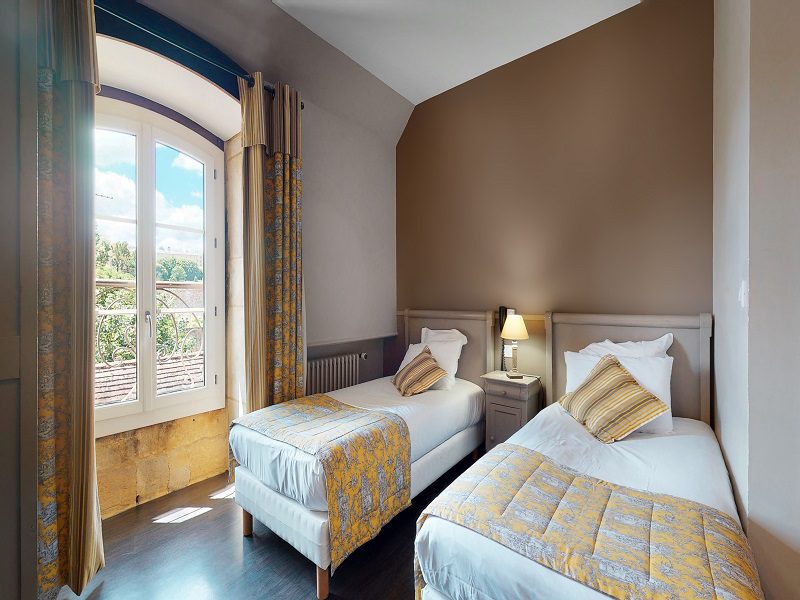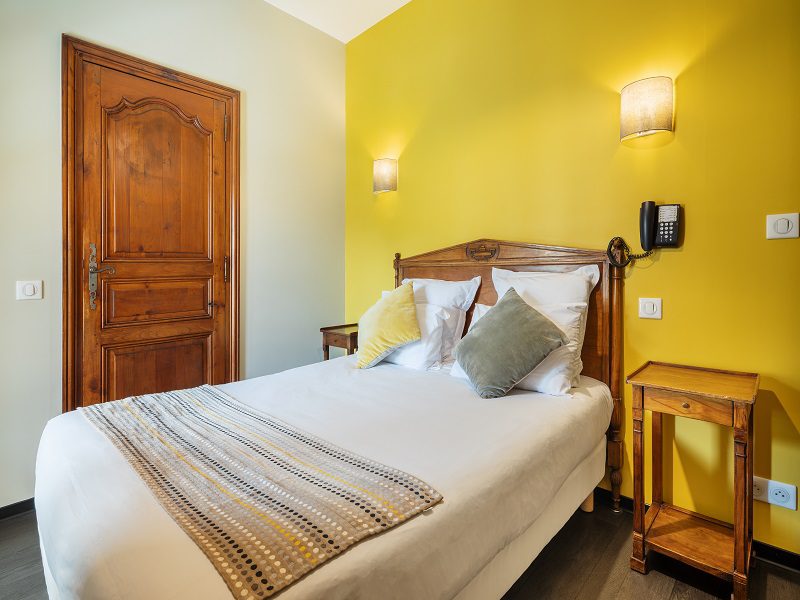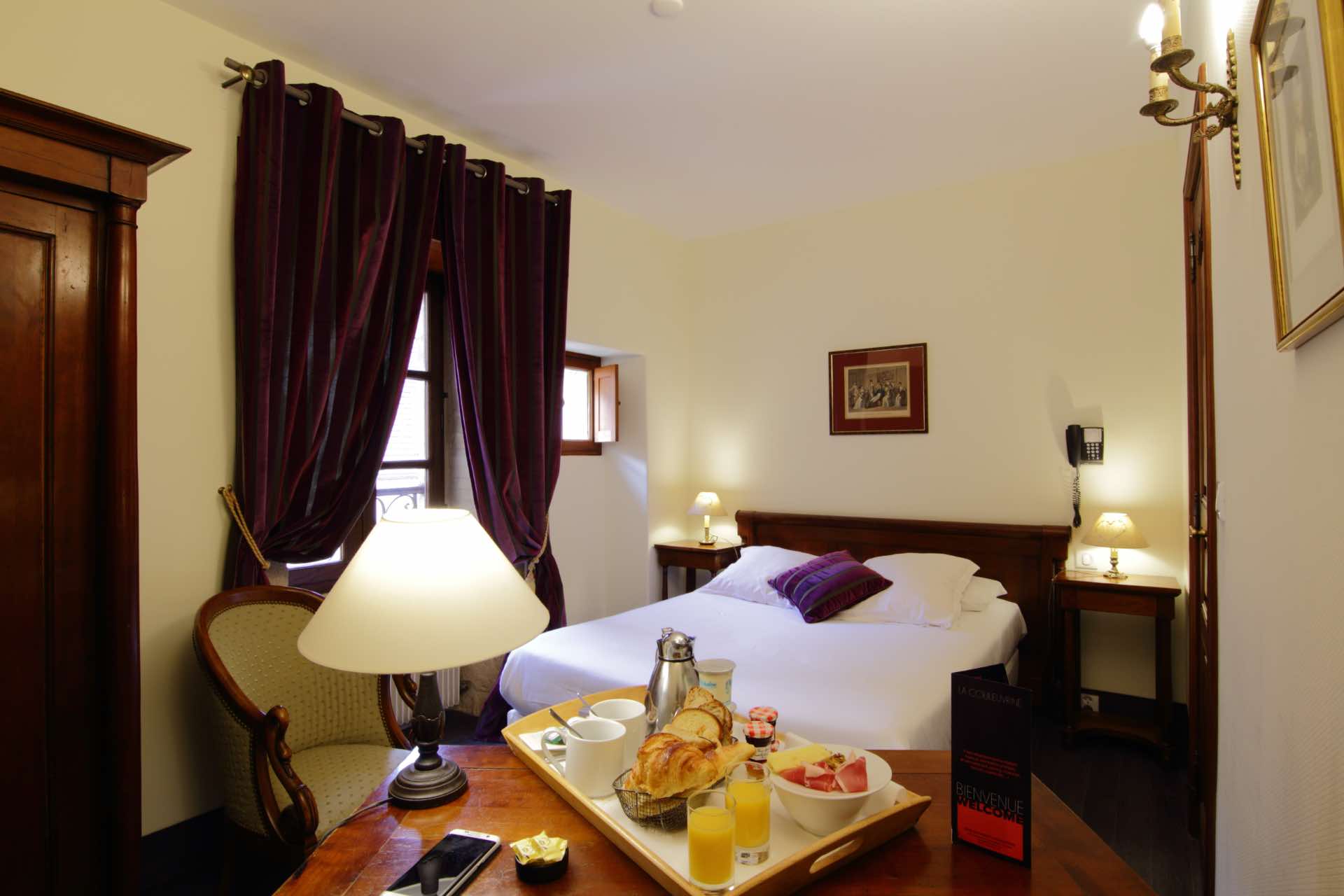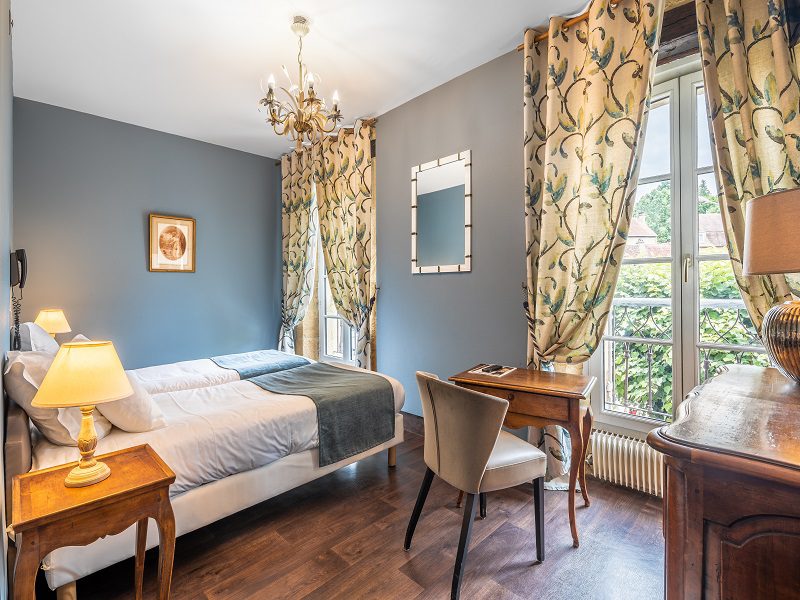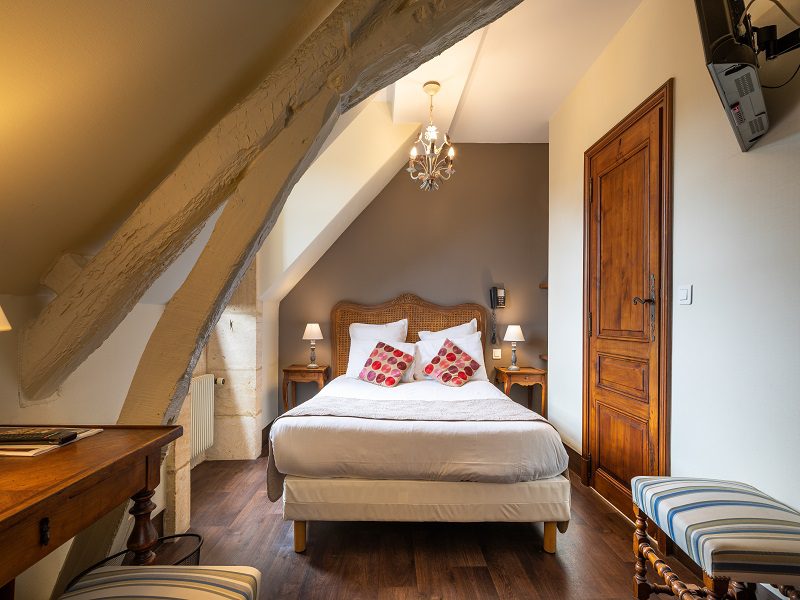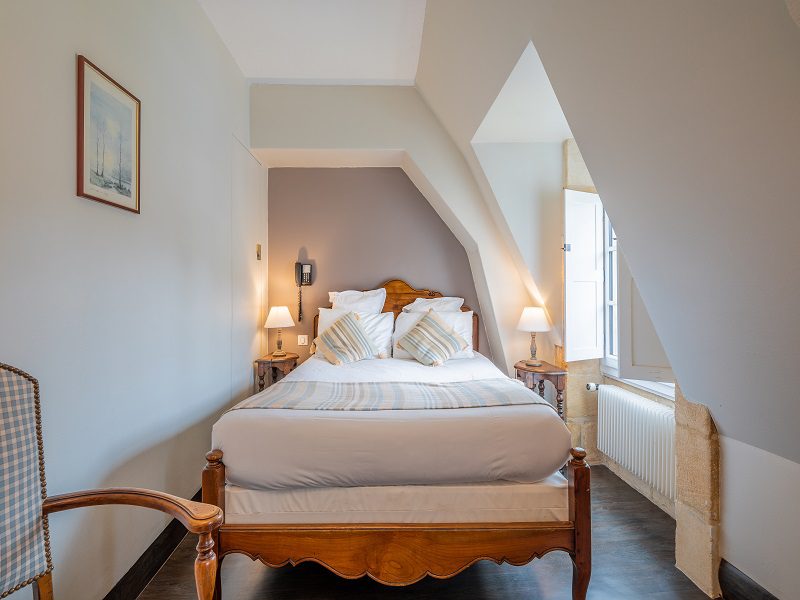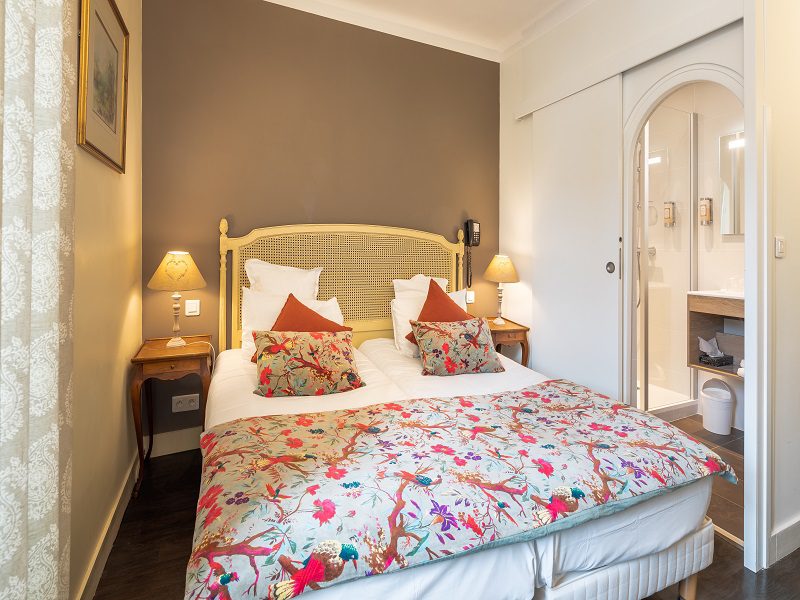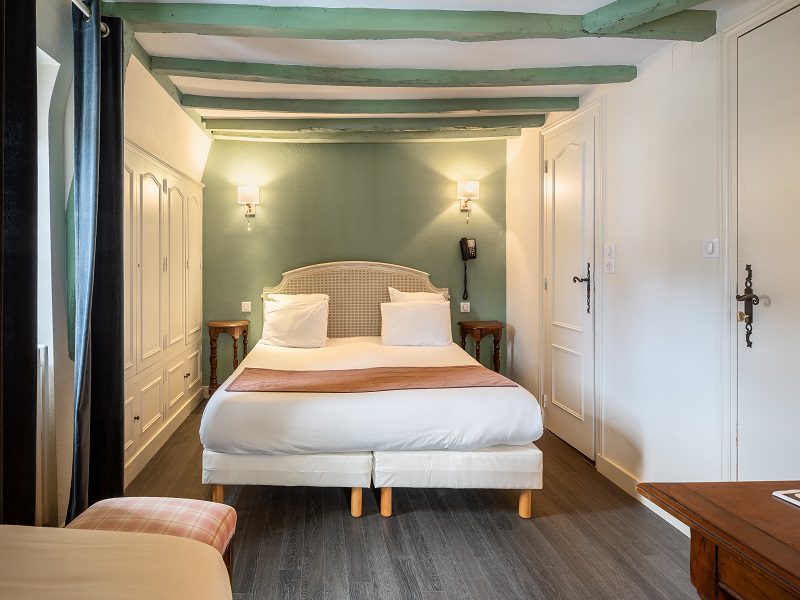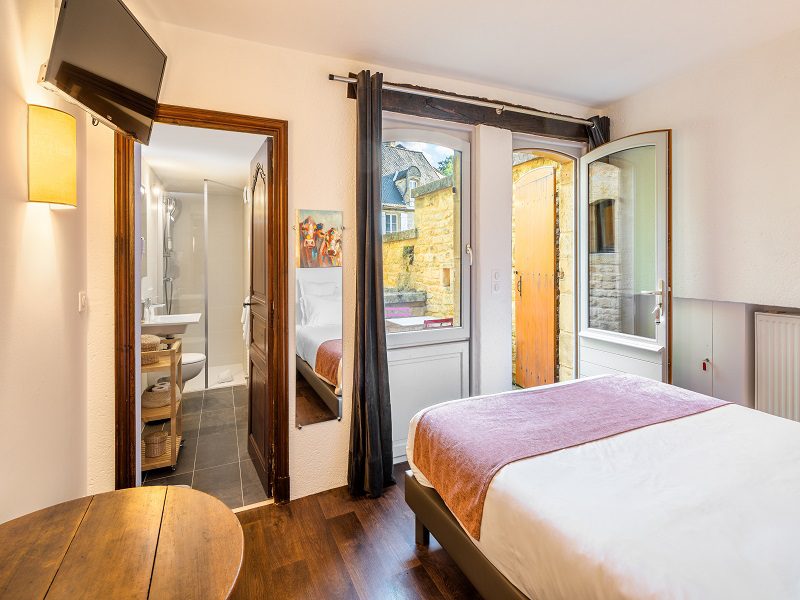 Charming Rooms
Surface of 20 m2
Occupancy 2 people. The Charm rooms are atypical rooms nestled in the heights of the hotel. The Charm rooms are ideal for a romantic stay. They are equipped with a 160 bed, an 80 cm LED screen, a private bathroom and free wifi connection. The 2 bedrooms are in the tower accessible by the elevator and then by a staircase.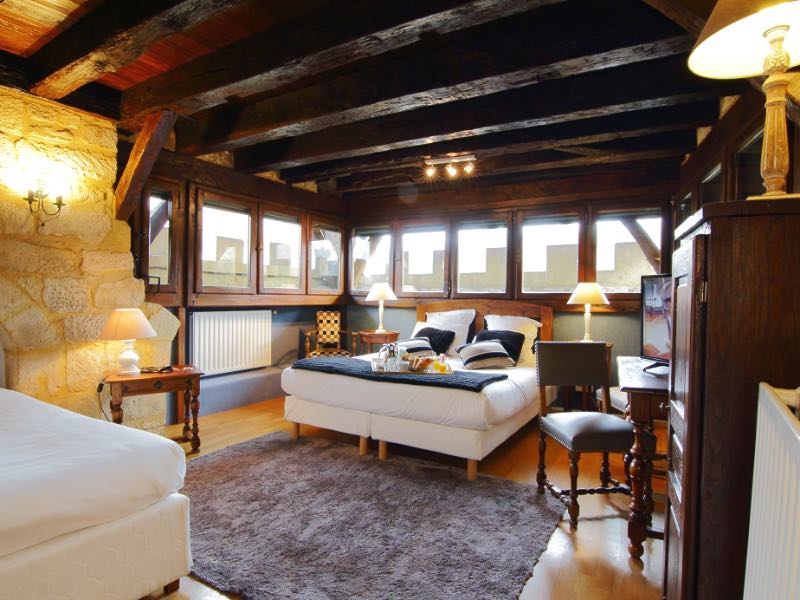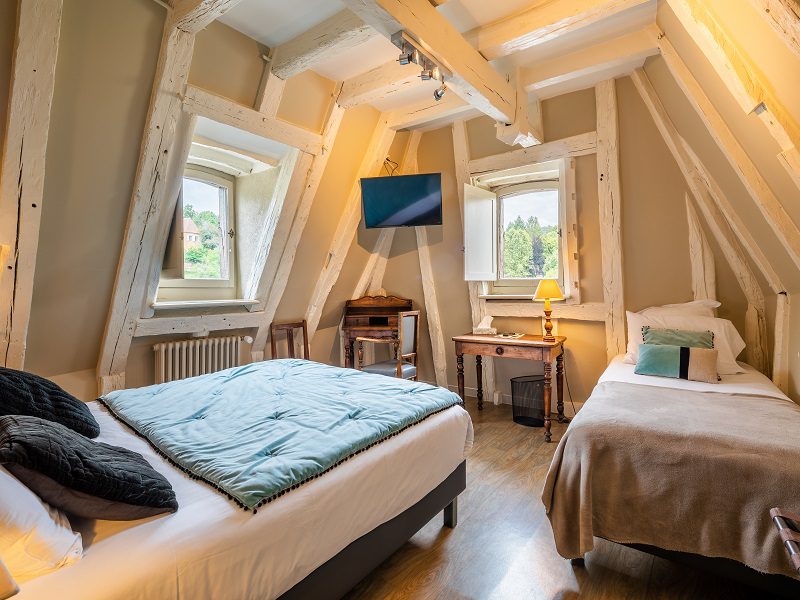 Confort Rooms
Surface of 20 m2
Occupancy 2 or 3 people. The comfort room is a spacious room with a view of the square allowing triple occupancy. The charm of the old combined with the comfort of the present. For a stay as a couple or as a family, the comfort rooms are ideal. It is equipped with a 160 x 200 cm bed as well as a 140 x 190 double bed, an 80 cm LED screen, a private bathroom with bathtub and free wifi connection. Bedroom 9 is on the second floor.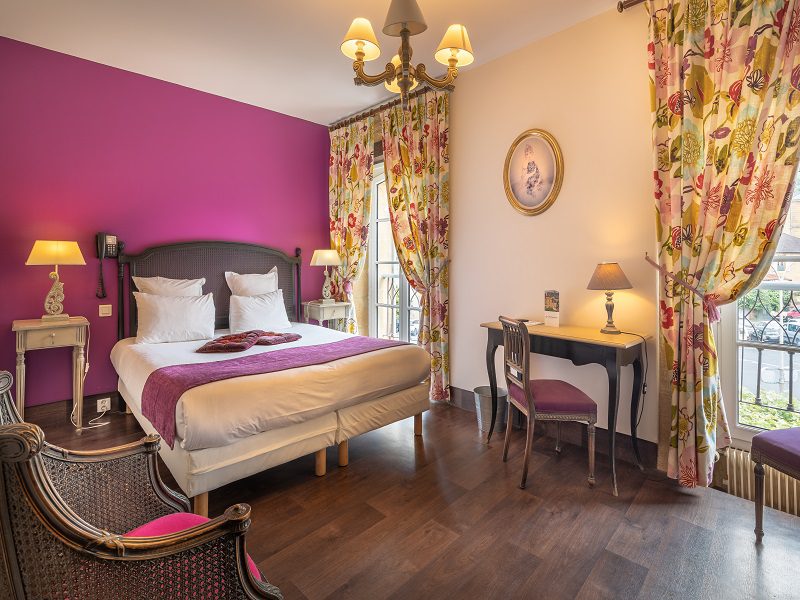 Family Rooms
Surface about 25 m2
Occupancy 2 to 4 people. The family rooms are large rooms offering all the comforts for a family stay with or without children. The sofa beds allow you to enjoy a lounge area when you are a couple and additional beds when traveling as a family.
Bedroom n°1: 1 bed 160cm + 1 bed 140cm (room with reduced mobility) – Access from the outside – private terrace.
Bedroom n° 2: 2 communicating rooms with 1 bed 160 cm + 2 beds 90 cm (note: access by stairs)
Bedroom n° 3: 2 communicating rooms with 1 bed 160 cm + 2 beds 90 cm
The room is assigned automatically according to availability.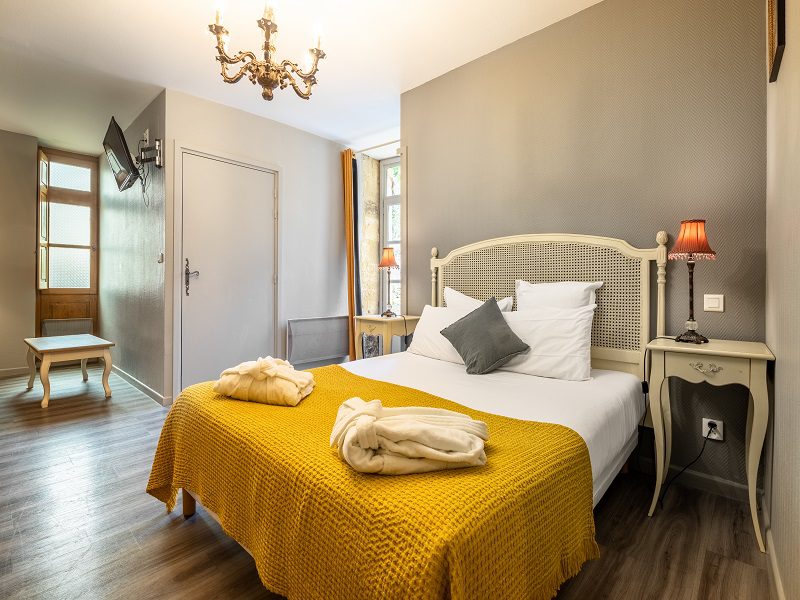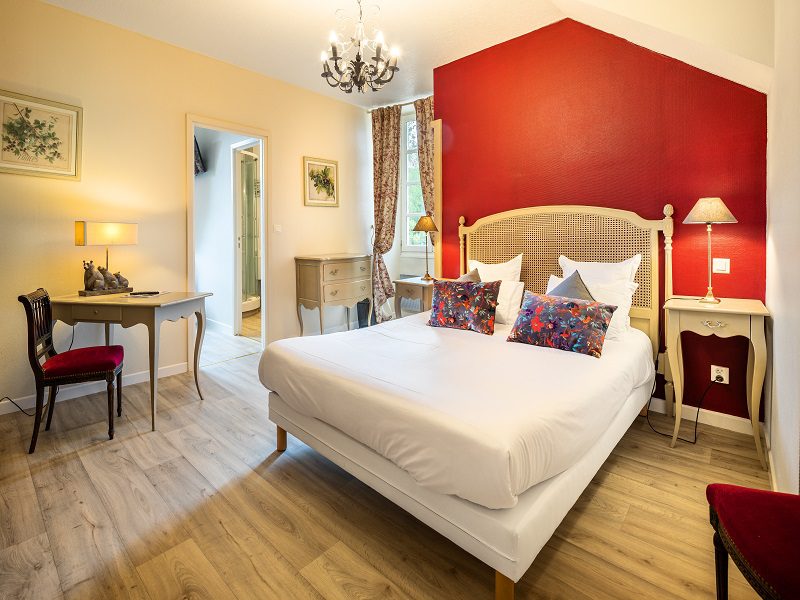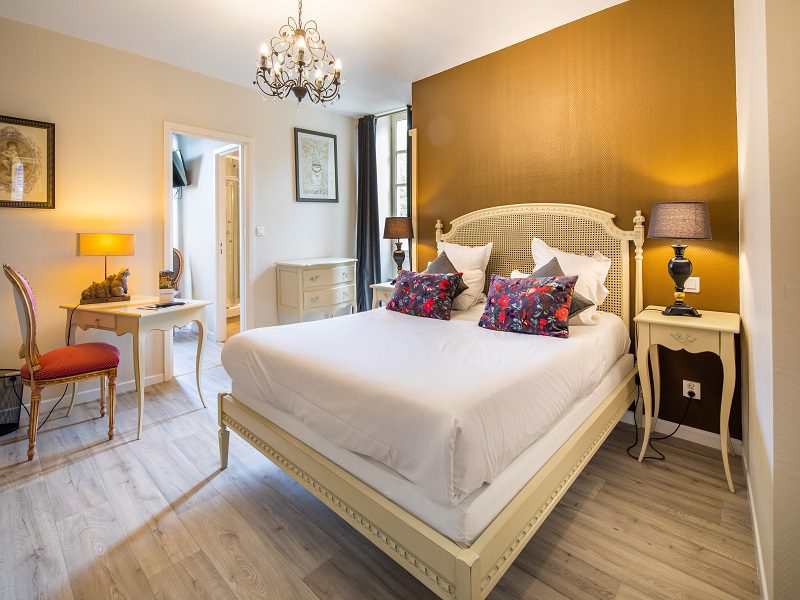 Opening hours front 7.30 am – 10.00 pm
RECEPTION 7.30 am – 10 pm
The rooms are available from 4:00 p.m. You can leave your suitcases in the locker before this time.

BREAKFAST is not included in the price of the room
OPTIONAL BREAKFAST
Every morning from 7:30 a.m. to 9:30 a.m. Start the day with a fresh and varied breakfast. Breakfast consists of bread, pure butter pastries, local yogurts from La Ferme de La Brunie, fresh fruit salad, cold cuts, cheese, cottage cheese, scrambled eggs, compote. Gluten-free breakfast possible on request. Price: 12 euros (6 euros for children under 12).
Free WIFI throughout the hotel
LED flat screen 80cm
Personalized decoration and antiques furniture
Branded Simmons bedding, top quality hospitality
Non smoking hotel
Pets accepted
Phone
Press: daily local and national newspappers
Lift except for some rooms
Frequently Asked Questions
HOW TO BOOK?
Book directly at the hotel to get the lowest rate, more flexible cancellation terms and quality service:
MAY I CHANGE MY RESERVATION ?
Yes. Simply call
+33.553.59.27.80
ou nous envoyer un mail
via the contact form
.
Attention
: If you have booked through an online agency (Booking, Hotels.com or others) you will need to contact the online agency directly to do so.
DO YOU HAVE A PARKING?
Yes, the hotel has a private car park located 400 meters from the hotel. (walking distance : 7 minutes). Places are at the rate of 10 euros per day – booking is requiered.
The hotel is located in front of a free public car park from the 1st of November to the 31st of March with 60 places - "Place Salvador Allende".
You can also park at "Les Desmourets" car park (250 places) located at 5 minutes walk from the hotel, accessible by stairs. Download the map to reach back the hotel.
CAN I TRAVEL WITH MY ANIMAL?
Yes, we accept pets for free.
DO ROOMS HAVE AIR CONDITIONING?
The rooms are all equipped with electric fans in the summer season but there is no air conditioning.