Restaurant open from Tuesday to Saturday (closed on Sunday & Monday)
Attention: your booking will be effective after receiving a confirmation from us. If it is a booking for the same day, please call directly at +33 553 59 27 80
Welcome to the restaurant
I have the pleasure to make you discover my world both turned to the products of my region but also to flavors of Asia. I have at heart to offer quality meat. For this, I select the best meat breeds that I can not wait to taste. See you soon.
Marion Martel – Chef de cuisine
Open 7/7 from tuesday to saturday
In individual, couple, family or group, the restaurant team is at your disposal to make you taste our cuisine, traditional, vegetarian or adapted to your food intolerances. All our rooms, intimate and adaptable, allow all configurations according to your request. (Privatization for a family meal, square table, business meeting, romantic dinner, …)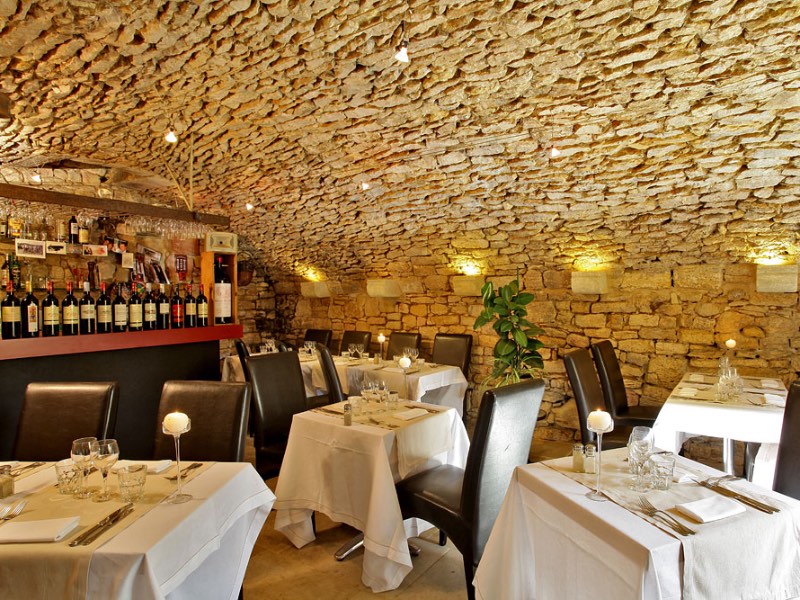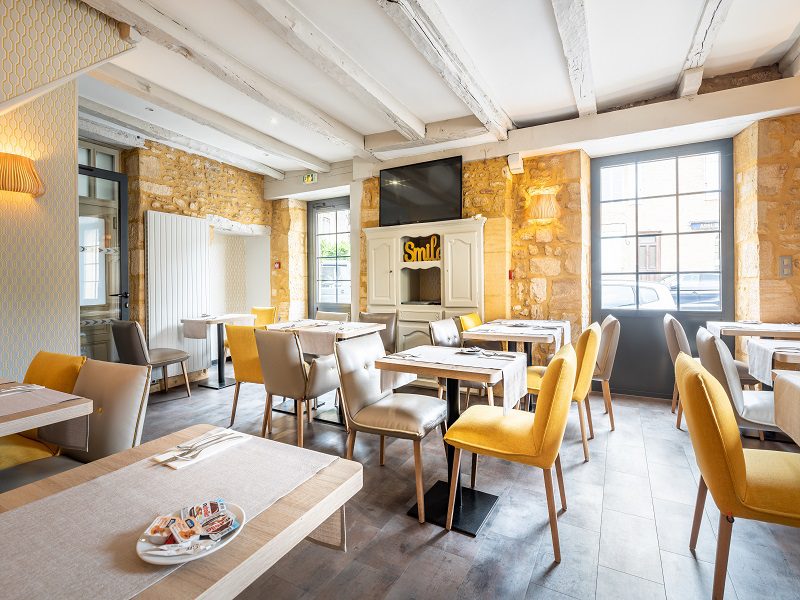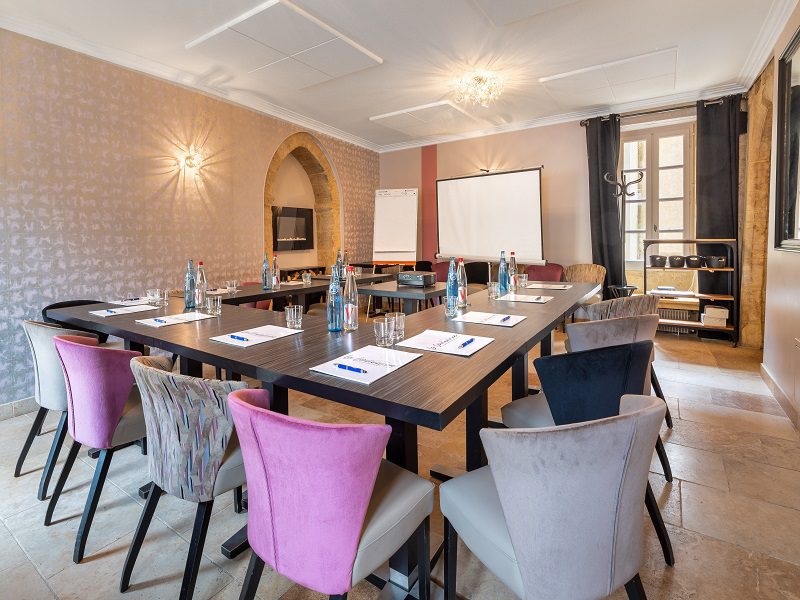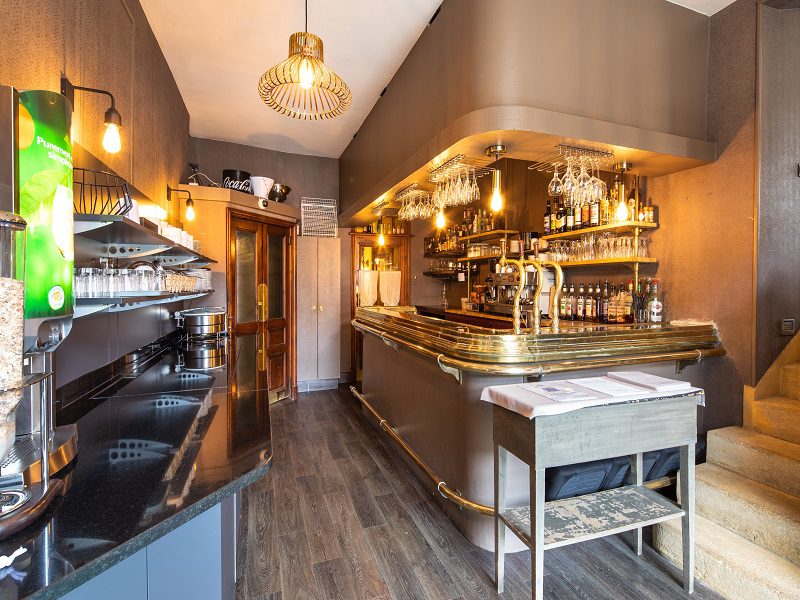 Le menu Saveurs
1 Starter + 1 Meal or Meal + Desert = 24 euros
1 Starter + 1 Meal + 1 Desert = 30 euros
A la carte: Starter 13 € – Meal 22 € – Desert 8 €
STARTERS
Duck foie gras nems, teriyaki sauce
–
Carrot soup, coconut, almonds, toasted pine nuts and arugula
–
Pork trotters in jelly, purple mustard from Brive, pickles and baby spinach leaves
MEALS
Beef phô: rice noodles, ginger, coriander, beef and harissa consomme
–
Lean steak, butternut mousseline with tangerine zest, venerated rice
–
Vegan ravioli, stuffing of yesteryear vegetables, creamed white beans
DESERTS
The chestnut: Cream, tuile, ice cream, praline and meringue
–
Caramelized pumpkin, "Belchard" apples melting with cider, cereal crumble
–
Lime "green and yellow": crisp, marmalade, ganache and tarragon
Le menu IGP Périgord
1 Starter + 1 Meal + Desert : 24 €
A la carte: Starter 10 € – Meal 16 € – Desert 6 €
Foie gras crème brûlée, candied onions, poppy seed breadsticks
–
Duck confit,  potatoes cooked in duck fat
–
Artisanal walnut ice cream
 CHILDRENS > 12 years old – 11 €
Steak or lean homemade steak,
Fries or seasonal vegetables
Artisanal vanilla ice cream
FOR LUNCH ONLY
Only for lunch from tuesday to saturday
Plate à the day : 10 €
Plate of the day + desert ofthe day + coffee : 14 €
La carte
A partager
Aperitif board to share  – 7 €
(price per pers. from 2 pers.)
Le Foie gras maison
Whole homemade duck foie gras, candied quince – 18 €
(Hôtel halfboard supplement: 5 euros)
Tourain  – 10 €
Local onions soup
Meals
Biologic steak, homemade fries, béarnaise emulsion sauce – € 20
Sweetbread, mushrooms and Madeira sauce, potatoes – 25 €
(Halfboard extra charge : 6 euros)
Beef tenderloin, potatoes, truffle sauce – 25 €
(Halfboard extra charge : 6 euros)
Fillet of beef Rossini style, Sarladaise potatoes, truffle sauce – € 30 – (Halfboard extra charge : 10 euros)
"Charolais" beef tartare 180 gr, homemade fries – 18 €
Deserts
Desert of the day : 6 €
Assiette 3 fromages (Abondance fermière, Cabécou IGP Rocamadour, Brie de Meaux) 8 €
Dessert du moment 6 €
Glace artisanale 2 boules 6 €
Parfums : Vanille, Chocolat, Fraise, Citron, Framboise, Cassis, Noix, Café
Come in groups (>20 people) ?
We have a special offer for you.
STARTERS
Duck pâté (foie gras 20%), onion confit
Fish terrine with seasonal vegetables
Salad with smoked duck breast and candied gizzards
Cabécou puff pastry, forest sauce
Melon / ham salad (from May to September)
*1/4 wine and coffee included, cheese supplement: € 3 per person.
* The Menu chosen must be the same for all the group.
MEALS
Fish of the day, risotto
Minced chicken basquaise style, basmati rice
Duck confit, Sarladaise potatoes
Beef cheek with Bergerac, gratin dauphinois
Half Duck Breast (150 gr), Sarladaise potatoes
deserts
Floating Island
Seasonal Fruit Tart
Plate of Frozen Fresh Fruits
Walnut Cake, English Cream
Coffee Tiramisu
Walnut wine from Sarlat
Block of duck foie gras, smoked duck breast, confit goose gizzards
Glass of Monbazillac (7 cl)
Half-breast Rossini style, mushrooms sauce, Sarladaise potatoes
Glass of Pécharmant (11 cl)
Hot cabécou and saladine
Variation around walnuts (ice cream, pie, crème brûlée)
Attention: your reservation will be effective after receiving a confirmation from us.
If it is a reservation for the same day, please call directly at +33 553 59 27 80
SERVICE
Every day of the year
12:00: 12:00 – 14:00
Evening: 19:00 – 21:00
Payment
Cash, credit card, VISA, American Express, Checks, Chèques Vacances (ANCV), Lunch vouchers, La Couleuvrine Gift voucher.
Frequently Asked Questions
HOW TO BOOK?
Book directly at the hotel to get the lowest rate, more flexible cancellation terms and quality service:
MAY I CHANGE MY RESERVATION ?
Yes. Simply call
+33.553.59.27.80
ou nous envoyer un mail
via the contact form
.
Attention
: If you have booked through an online agency (Booking, Hotels.com or others) you will need to contact the online agency directly to do so.
DO YOU HAVE A PARKING?
Yes, the hotel has a private car park located 400 meters from the hotel. (walking distance : 7 minutes). Places are at the rate of 10 euros per day – booking is requiered.
The hotel is located in front of a free public car park from the 1st of November to the 31st of March with 60 places - "Place Salvador Allende".
You can also park at "Les Desmourets" car park (250 places) located at 5 minutes walk from the hotel, accessible by stairs. Download the map to reach back the hotel.
CAN I TRAVEL WITH MY ANIMAL?
Yes, we accept pets for free.
DO ROOMS HAVE AIR CONDITIONING?
The rooms are all equipped with electric fans in the summer season but there is no air conditioning.