I reserve a table
OPEN FROM TUESDAY TO SASURDAY
Attention: your booking will be effective after receiving a confirmation from us. If it is a booking for the same day, please call directly at +33 553 59 27 80
Welcome to the restaurant
Maître Restaurateur, discover a fresh, local and inventive cuisine. Discover the specialties of Sarlat but also an original cuisine. The restaurant is open all year round for lunch and dinner from Tuesday to Saturday (closed on Sunday and Monday). Installed in the ramparts of the city of Sarlat, have lunch or dinner in a 15th century house inside or on the terrace.
"I am pleased to introduce you to my universe, both focused on products from my region such as foie gras, but also on flavors from Asia. I am committed to providing you with quality products. For this, I select local products that I can't wait to let you taste. See you soon with us" Marion Martel – Master Restaurateur – Chef
Open from tuesday to saturday
The restaurant La Couleuvrine in the heart of Sarlat, it is an inventive and traditional cuisine turned to regional specialties such as duck foie gras, Sarladaise potatoes but also signature dishes. The chef also offers vegetarian dishes or dishes adapted to your food intolerances. You will enjoy a moment of relaxation on our terrace or in our stylish rooms. As a couple, individually, in family or in a group, the restaurant La Couleuvrine offers a solution.
All our rooms, intimate and adaptable, allow all configurations according to your request:
– Privatization for a family meal
– Romantic dinner
– Square table for a moment of sharing
– Business meetings
– Group of more than 20 people (up to 120 people spread over the rooms)
– etc…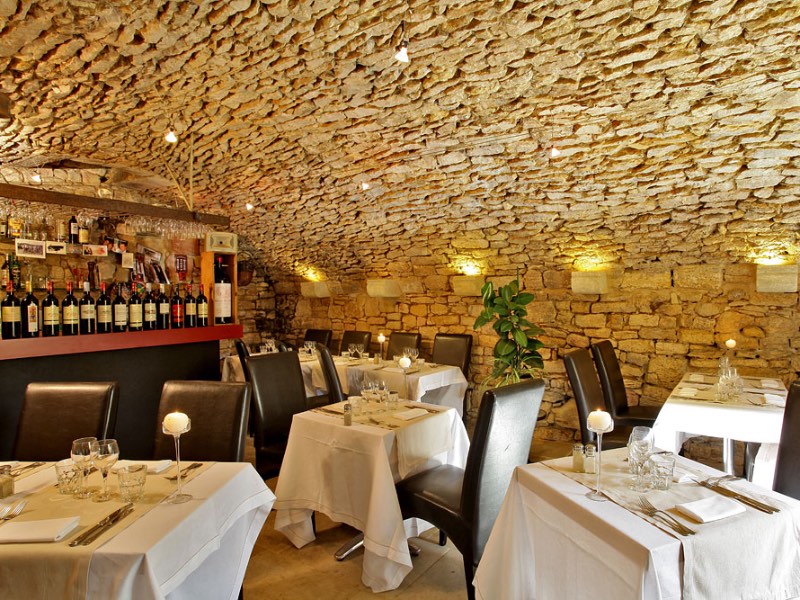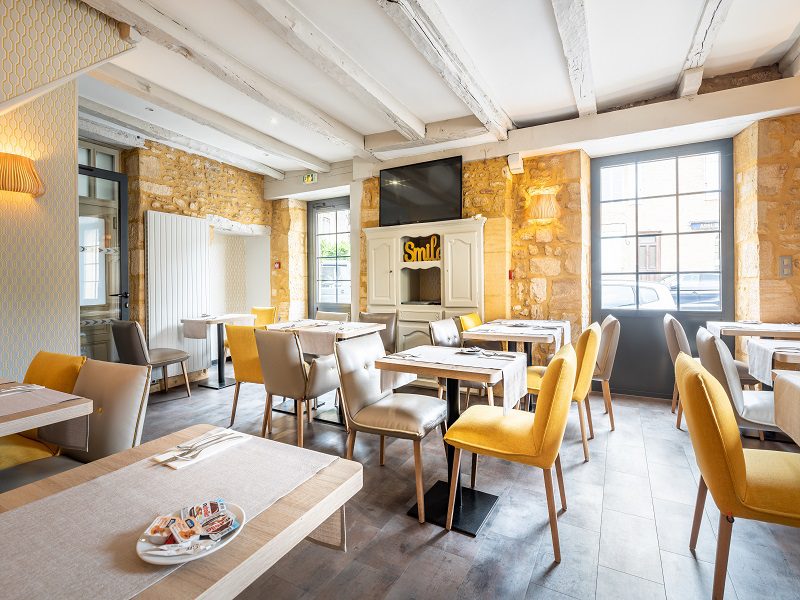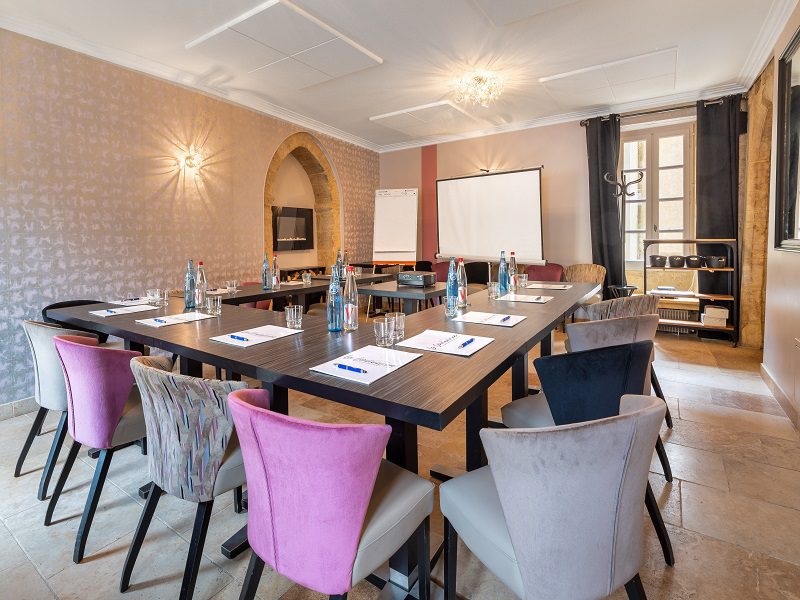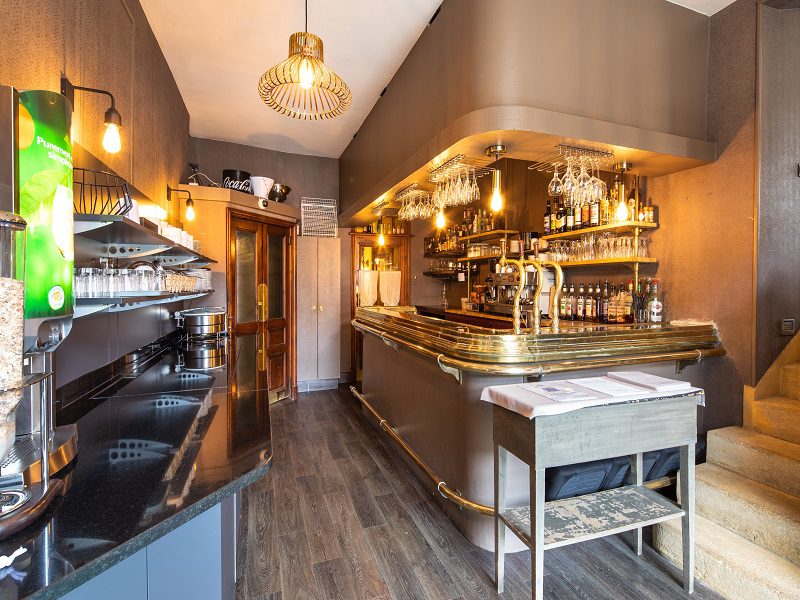 Le menu Saveurs
1 Starter + 1 Meal or Meal + Desert = 26 euros
1 Starter + 1 Meal + 1 Desert = 32 euros
A la carte: Starter 13 € – Meal 22 € – Desert 8 €
STARTERS
Duck foie gras nems, teriyaki sauce
–
Biologic soft-boiled egg, Maroilles cheese emulsion with blond beer, smoked bacon, croutons
–
Butternut and coral lentils velouté, coconut milk, hazelnut chips
MEALS
Semi-cooked red tuna in sesame crust, parsnip texture and sweet pepper condiment
–
Preserved Pork belly with four spices, small spelt risotto with meat cooking juice, roasted pumpkin
–
Vegan risotto: brown rice with boletus mushrooms, grilled pecan nuts, parsley soy milk foam
DESERTS
Conference pear in syrup, warm chestnut cream
–
Tiramisu : biscuit soaked in amaretto liquor and coffee, mascarpone cream flavored with vanilla
–
Honey : Honey and lemon ganache, honey biscuit, honey jelly and pollen seeds
Le menu IGP Périgord
1 Starter + 1 Meal + Desert : 25 €
A la carte: Starter 10 € – Meal 17 € – Desert 6 €
Foie gras crème brûlée, candied onions, poppy seed breadsticks
–
Duck confit,  potatoes cooked in duck fat
–
Artisanal walnut ice cream
 CHILDRENS > 12 years old – 12 €
Duck manchon (half of the leg) or cod fish, homemade fries or seasonal vegetables
—
Artisanal vanilla ice cream
FOR LUNCH ONLY
Only for lunch from tuesday to saturday
Plate à the day : 10 €
Plate of the day + desert ofthe day + coffee : 14 €
La carte
A partager
Aperitif board to share  – 16 € (for 2 persons)
Local soup
Garlic and egg soup- 13 €
Le Foie gras maison
Whole homemade duck foie gras- 20 €
(Hôtel halfboard supplement: 6 euros)
Meals
Biologic steak, homemade fries, béarnaise sauce – € 20
Sweetbread, mushrooms and Madeira sauce, potatoes – 26 €
(Halfboard extra charge : 7 euros)
Prime filet beef, potatoes, truffle sauce – 26 €
(Halfboard extra charge : 7 euros)
Prime filet beef Rossini style, Sarladaise potatoes, truffle sauce – € 31 – (Halfboard extra charge : 10 euros)
"Charolais" beef tartare 180 gr, homemade fries – 18 €
Deserts
Desert of the day  – 6 €
Assiette 3 fromages – 9 €
Homemade profiteroles  – 8 €
Dessert du moment – 6 €
Glace artisanale 2 boules – 6 €
Parfums : Vanille, Chocolat, Fraise, Citron, Framboise, Cassis, Noix, Café
Come in groups (>20 people) ?
We have a special offer for you.
STARTERS
Duck pâté (foie gras 20%), onion confit
Fish terrine with seasonal vegetables
Salad with smoked duck breast and candied gizzards
Cabécou puff pastry, forest sauce
Melon / ham salad (from May to September)
*1/4 wine and coffee included, cheese supplement: € 4 per person.
* The Menu chosen must be the same for all the group.
MEALS
Fish of the day, risotto
Minced chicken basquaise style, basmati rice
Duck confit, Sarladaise potatoes
Beef cheek with Bergerac, gratin dauphinois
Half Duck Breast (150 gr), Sarladaise potatoes
deserts
Floating Island
Seasonal Fruit Tart
Plate of Frozen Fresh Fruits
Walnut Cake, English Cream
Coffee Tiramisu
Walnut wine from Sarlat
Block of duck foie gras, smoked duck breast, confit goose gizzards
Glass of Monbazillac (7 cl)
Half-breast Rossini style, mushrooms sauce, Sarladaise potatoes
Glass of Pécharmant (11 cl)
Hot cabécou and saladine
Variation around walnuts (ice cream, pie, crème brûlée)
Guided tour of the restaurant
For more than 40 years we have been welcoming our customers to the Dordogne with the same passion and good humor as our parents, to ensure that you have the best stay.
In each of the rooms of the restaurant, a different atmosphere. In summer, enjoy a shaded terrace away from the tourist activity.
Our chef Marion Martel is the granddaughter of the house, chef and Maître Restaurateur since 2015. The title of Maître Restaurateur is the recognition of work that cares about the environment, the promotion of local producers and cuisine. in pure form from raw materials only. With her team, she offers a menu of fresh, local products, classics but also some dishes from her own hand.
In the dining room, you will be served by a dynamic, motivated and smiling team. A year-round team that will meet your expectations.
See you soon at La Couleuvrine in Périgord.